Vacuum solutions for foundries
Dust build-up in foundry production processes is a risk that can be mitigated using industrial cleaning systems. Departments are cleaned regularly to prevent problems normally found in foundries, such as rust.
Vacuum cleaners for hot materials and high temperatures
Crucibles, which can resist extremely high temperatures, are containers in which the final metal is poured and require rigorous cleaning to remove any residue that could compromise the next pour. The MHV vacuum cleaner range offers solutions to treat high-temperature materials and incandescent dust, ensuring exceptional cleaning thanks to: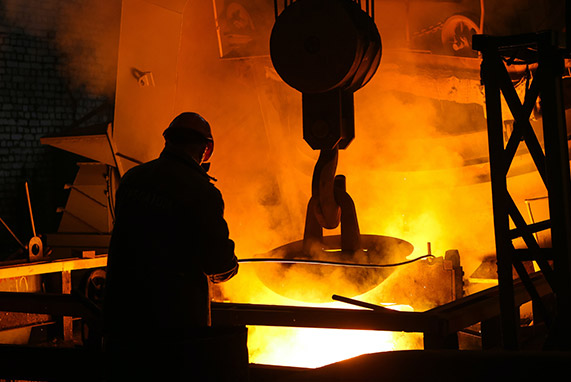 Recommended for this application
Removing dust from the moulds
The sand casting moulds that will be used for the fusion process go through an initial preparation process and shakeout phase. Removing the dust is essential during both phases to prevent:
A vacuuming system (mobile or centralized) with the specific attachments allow any residue to be removed from the mould and sand to be cleaned from under the belts and in the mould breaking zones.
Given the limited space available in the underground tunnels, a centralized system is necessary to quickly recover dust spills.
Solutions for the sandblasting process
The raw piece is sanded via the sandblasting process after shakeout. The piece is sanded and cleaned inside special booths using large amounts of small abrasive materials.
This causes a significant potentially hazardous dispersion of sand in the sanding booths and removing it can be a difficult task.
It is possible to vacuum and reuse the abrasive material, filtering it from the exhausted waste by building a centralized device with vacuum inlets near the booths.
As the final treatment, CNC machines cut and finish the previously sanded piece. CNC machines produce large amounts of chips, making their removal and disposal difficult, in addition to causing interruptions in production cycles in order to clean the machine.
Industrial vacuum cleaners collect the chips from the machine in a continuous flow and transport them to a collection point, where they are emptied into lorries or bins.
Continuous routine production maintenance is necessary to prevent future breakdowns, reduce wasted time to a minimum, and prolong component lifespan. There are several advantages to using Mastervac industrial vacuum solutions, including:
MHV range solutions consist of: a high-performance suction unit with self-cooling lobed pumps that ensure extremely high vacuum and air flow values.
Various types of filters based on the requirement (the filter cleaning mechanism can be timed or semi-assisted and is carried out with a self-cleaning filter shaker or a filter-cleaning solenoid valve in the chambers).
A collection unit, consisting of a tank that can be removed and unloaded from the bottom via a lever-activated wide tilting door or a 1000-litre capacity lower hopper that can be unloaded from the bottom via a manual-command butterfly valve.
Pneumatic actuators or other types of unloading are available.
When you choose a Mastervac vacuum solution, you will be working with a specific team specialised in high vacuum solutions, who are able to tailor the solution most suited to every manufacturing environment.